Featured: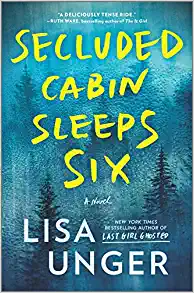 Title: "Secluded Cabin Sleeps Six"
Author: Lisa Unger
Type: Adult Fiction
Summary: ""A deliciously tense ride." –Ruth Ware, New York Times bestselling author of One By One INSTANT BESTELLER Three couples rent a luxury cabin in the woods for a weekend getaway to die for in this chilling locked-room thriller. What could be more restful than a weekend getaway with family and friends? An isolated luxury cabin in the woods, spectacular views, a hot tub and a personal chef. Hannah's generous brother found the listing online. The reviews are stellar. It'll be three couples on this trip with good food, good company and lots of R & R. But the dreamy weekend is about to turn into a nightmare. A deadly storm is brewing. The rental host seems just a little too present. The personal chef reveals that their beautiful house has a spine-tingling history. And the friends have their own complicated past, with secrets that run blood deep. How well does Hannah know her brother, her own husband? Can she trust her best friend? Meanwhile, someone is determined to ruin the weekend, looking to exact a payback for deeds long buried. Who is the stranger among them?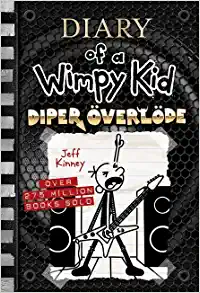 Title: "Diper Overlode- Diary of a Wimpy Kid"
Author: Amanda Fairbanks
Type: Easy Fiction
Summary: "Tagging along with his brother Rodrick's band, Löded Diper, Greg gets more than he bargained for when he gets a backstage pass to the rock 'n' roll lifestyle and wonders if he can help them become the legends they think they are." From the Catalog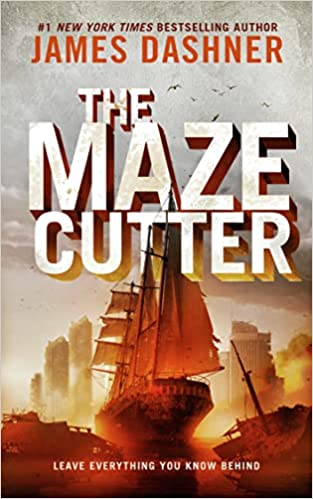 Title: "The Maze Cutter" – Book 1
Author: James Dashner
Type: Young Adult
Summary: "73 years after The Maze Runner series, the descendants of dystopia have thrived on the island but must leave everything they know behind when a ship comes from the old world with news about how they are needed to save civilization"– Provided by publisher.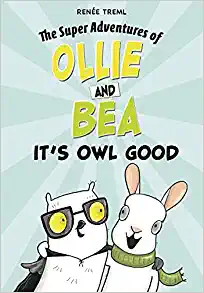 Title: "It's Owl Good, The Super Adventures of Ollie and Bea"
Author: Renâee Treml
Type: Easy
Summary: "Ollie is an owl who wears glasses; Bea is a bunny with very big feet, and both are very self-conscious about what they see as flaws–but when they meet they help each other turn what seem at first to be problems into superpowers, and so become good friends."
Full List: December 2022
| | | |
| --- | --- | --- |
| Title | Author | Call Number |
| A Christmas Memory | Richard Paul Evans | AF Evans |
| The Choice, Dragon Heart Legacy Book 3 | Nora Roberts | AF Roberts |
| I Love My Teacher! | Todd Parr | Easy Parr |
| Inky's Amazing Escape | Sy Montgomery | Easy Montgomery |
| It's Owl Good, The Super Adventures of Ollie and Bea | Renee Treml | Easy Treml |
| Kit and Kaboodle Visit the Farm | Michelle Portice | Easy Portice |
| Mary Had a Little Lab | Sue Fliess | Easy Fliess |
| My Name is Elizabeth | Annika Dunklee | Easy Dunklee |
| Seek and Find Collection, Minions | | Esy Seek |
| My Teacher is a Robot | Jeffrey Brown | Easy Brown |
| Roll the Wagons | William Heuman | LP AF Heuman |
| Mary Has the Best Pet, School of Monsters | Sally Rippin | Easy Rippin |
| The Butcher and the Wren | Alaina Urquhart | AF Urquhart |
| The Night Shift | Alex Finlay | AF Finlay |
| The Maze Cutter, Book 1 | James Dashner | YA Dashner |
| Diary of a Wimpy Kid, Diper Overlode | Jeff Kinney | EF Kinney |
| The Twist of a Knife | Anthony Horowitz | AF Horowitz |
| The Broken Bow, Trusty Dawson U.S. Deputy Marshall Book 2 | Larry D. Sweazy | LP AF Sweazy |
| The Christmas Hummingbird, Miramar Bay | Davis Bunn | LP AF Bunn |
| An Amish Christmas Star | Shelley Shepard Gray | LP AF Gray |
| The Second Christmas | Marta Perry | LP AF Perry |
| Secluded Cabin Sleeps Six | Lisa Unger | AF Unger |
| The Passenger | Cormac McCarthy | AF McCarthy |
| Falling for the Cowgirl | Jody Hedlund | AF Hedlund |
| Back at the Ranch, The McCoys: Before the Feud Book 3 | Thomas A. McCoy | AF McCoy |
| Home to Kentucky, The McCoys: Before the Feud Book 2 | Thomas A. McCoy | AF McCoy |
| The McCoys Before the Feud Book 1 | Thomas A. McCoy | AF McCoy |
| A Life Without Regrets | Marci Bolden | AF Bolden |
| The Whittiers | Danielle Steel | AF Steel |
| Stella Maris | Cormac McCarthy | AF McCarthy |
| Wyoming Homecoming, Wyoming Men | Diana Palmer | AF Palmer |
| The Devil's Weapons | Peter Kirsanow | AF Kirsanow |
| The ManI Never Met | Elle Cook | AF Cook |
| The Sea Wolves, Isaac Bell Adventure | | AF Cussler |
| Walks Along the Shore, Blue Heron Cottages Book 2 | Kay Correll | AF Correll |
| Nigel and the Moon | Antwan Eady | Easy Eady |
| The Leaf Thief | Alice Hemming | Easy Hemming |
| the Good, the Bad and the Spooky | Jory John | Easy John |
| The Good Egg | Jory John | Easy John |
| As Cool As It Gets | Jory John | Easy John |
| The Bad Guys, The Others?! | Aaron Blabey | EF Blabey |
| The Beekeepers Son | Kelly Irvin | AF Irvin |
| The Three Little Superpigs and Goldilocks and the Three Bears | Claire Evans | Easy Evans |
| Unsporting: How Trans Activisim and Science Denial are Destroying Sport | Linda Blade | 796.0867 Blade |
| Batman's World | Nicole Reynolds | Easy Reynolds |
| Easter Egg Surprise, My Little Pony | Alexandra West | Easy West |
| Caution: Dinosaurs and You! | Rachel Chlebowski | Easy Chlebowski |
| the Dragon Path | Ethan Young | EF Young |
| Gabby Gets it Together, Paws | Nathan Fairbairn | EF Fairbairn |
| Hello, Horse | Vivian French | Easy French |
| Here Comes Peter Cottontail! | Steve Nelson | Easy Nelson |
| Head Over Tail | Rachel Bright | Easy Bright |
| How Fast is the Flash? | Vicky Armstrong | Easy Armstrong |
| Mystery of the Meanest Teacher | Ryan North | EF North |
| I Survived the Attack of the Grizzlies, 1967, Graphic | Georgia Ball | EF Ball |
| Trubble Town | Sytephan Pastis | EF Pastis |
| Diary of a Pug, Pug's Sleepover | Kyla May | Easy May |
| The Sparkle Dragons | Emma Carlson Berne | EF Berne |
| Dear Mama's Loving Arms | Ceece Kelley | Easy Kelley |
| Bring It On, Cheer or Die | | DVD Fic Bring |
| Odder | Katherine Applegate | EF Applegate |
| Crave, Crave Series Book 1 | Tracy Wolff | YA Wolff |
| Charm, Crave Book 5 | Tracy Wolff | YA Wolff |
| Court, Crave Book 4 | Tracy Wolff | YA Wolff |
| Covet, Crave Book 3 | Tracy Wolff | YA Wolff |
| YA Wolff | YA Wolff | YA Wolff |